Even if you don't have the budget (or time) for a full kitchen renovation, there are things you can do to give the space that upscale, newly renovated look. In fact, there is a whole slew of DIY weekend projects that will transform your space, and lend it that luxe feel—without the high-end price tag. Honest!
Whether you're in the market to sell this year or just ready to upgrade your starter home, these projects will provide you with all the inspiration you need to spice up your basic digs. Here are 10 of our favorite DIY projects that will instantly upgrade your kitchen in the span of a single weekend.
1. Install under-cabinet lighting

Photo by Pillar Custom Homes, Inc.
No matter how bright and well-lit your kitchen may be, installing some lights under the cabinets will instantly elevate the look of your counter space.
"Installing under-cabinet lighting is an inexpensive and easy DIY that gives your kitchen that high-end look," says Lauren Noel of Love Remodeled. "While some under-cabinet lighting needs to be hard-wired into your existing electrical system, many economical options have a plug-in feature."
2. Build your own rack for pots and pans

Photo by Dysign AB
Sick of all your best pots and pans living in a pile under the sink? Then it might just be time to start showing them off with a custom copper pipe rack.
"Whether hung from the ceiling or attached to the wall, a copper pipe rack is a striking, custom way to arrange and display your pots and pans," says Vicki Liston of On the Fly DIY. "Mixed metals are still trending, so even if your kitchen has other metal finishes, this will still work."
Check out this DIY idea to get started.
3. Upgrade your kitchen table light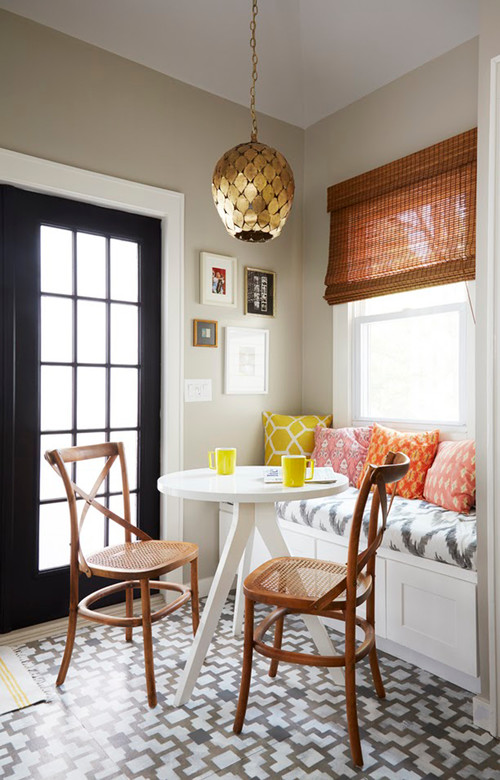 Photo by Janna Makaeva/Cutting Edge Stencils
The right lighting can transform a space, especially when strategically placed—like over the kitchen table.
"Do you still have a builder-grade chandelier over your kitchen table? If you do, I'm betting there's a chance you aren't happy with it," Liston says. "It just looks blah and cheap. It only takes a few minutes to swap it out and completely refresh the look of your dining area."
4. Add crown molding to cabinets

Photo by Kimberley Harrison Interiors
Adding crown molding is an easy and cost-effective way to give your run-of-the-mill cabinets a more polished look—and make them look more expensive than they actually are.
"Not only does adding crown molding to cabinets give them a more custom look, it also draws the eye upward—making the cabinets (and room) look taller," explains Liston. "This is especially helpful in smaller kitchens."
All you need to do is buy a set of molding, cut it to size, and nail it in place.
"If your corner pieces aren't perfect, don't worry," Liston says. "Paintable caulk is a lifesaver, and you can use it to fill the gaps. Go over everything with a fresh coat of paint, and no one will know this wasn't custom cabinetry."
5. Swap in a taller faucet
Even the most basic kitchen sink will benefit from a high-arc faucet—and the right one can transform your old stainless-steel wash basin into something modern and chic.
"Taller faucets give that professional look to a kitchen, as if you're saying, 'I don't just cook dinner here, I design meals,'" says Liston. "A myriad of styles and finishes are available at home improvement stores and come with detailed installation instructions. You could have a new look to your sink in as little as 20 or 30 minutes."
6. Refinish the kitchen tabletop

Photo by Tipfords
You don't have to dish out the big bucks on a brand-new dining set. In fact, all you really need is a bit of paint and some elbow grease to completely transform your tabletop using this herringbone pattern.
"I love how the herringbone paint method gives this table that textured look and a whole new style," Noel says. "Refinishing a kitchen tabletop might seem like a hard DIY, but it's truly just a matter of completing a few simple steps."
7. Paint your cabinets

Photo by Skin Interior Design
Applying a brand-new coat of paint won't cost you much or take very long, and it's something that will remake your kitchen into a more modern space.
"Repainting kitchen cabinets a new color, such as Sherwin-Williams' 2020 Color of the Year Naval, is a great way to update your tired cabinets," Noel says. "Whether you choose to paint all the cabinets, or just the lowers or island, to give the kitchen a tuxedo look, it's an inexpensive and high-impact upgrade that can be completed in a weekend."
8. Swap out your drawer pulls

Photo by Elizabeth Lawson Design
"The devil's in the details, right? New brass drawer pulls will instantly make existing cabinets look updated," says Liston. "It's like wearing all-new jewelry."
And if you're experiencing 1990s brass fixture flashbacks, it's OK—brass is back, and it's easy to spray-paint when it's run its course.
9. Get a new backsplash

Photo by Marks & Frantz Interior Design
Forget the tiles and grout! Getting a new backsplash can be as easy as peeling off the adhesive backing and applying the new design to your boring old walls.
"A gorgeous new backsplash adds visual interest between the cabinets and the countertops," says Liston. "But not everyone loves tile work. If gluing and grouting isn't your thing and you want an updated look before the end of the weekend, simply use peel-and-stick panels.
"Originally I balked at the idea," she adds, "but they're actually very realistic-looking, whether you want a ceramic tile or glass tile look."
10. Add band edging
"Band edging is an easy way to give cabinets, cabinet doors, and drawers a subtle update," Liston says. "Take a close look: Are there any edges that don't look like the cabinet facing? If so, a little band edging can make them look more expensive than they actually are. Either find band edging to perfectly match your cabinet finish or choose a contrasting finish for an unexpected visual surprise. Simply iron on and you've got an upgrade!"
Source: Larrissa Runkle and Realtor.com